In 2017, the Mudo Cinema Ensemble arranged and premiered a guided improvisation of my ideas for the digital restoration of the Mexican jewel of gangster movies against charros and much more, filmed in Orizaba. Filmoteca UNAM and AMACC commissioned us the version for Ensemble premiered live, and this time, the Mexican Culture Seminar has asked me to play a piano reduction only of the same work.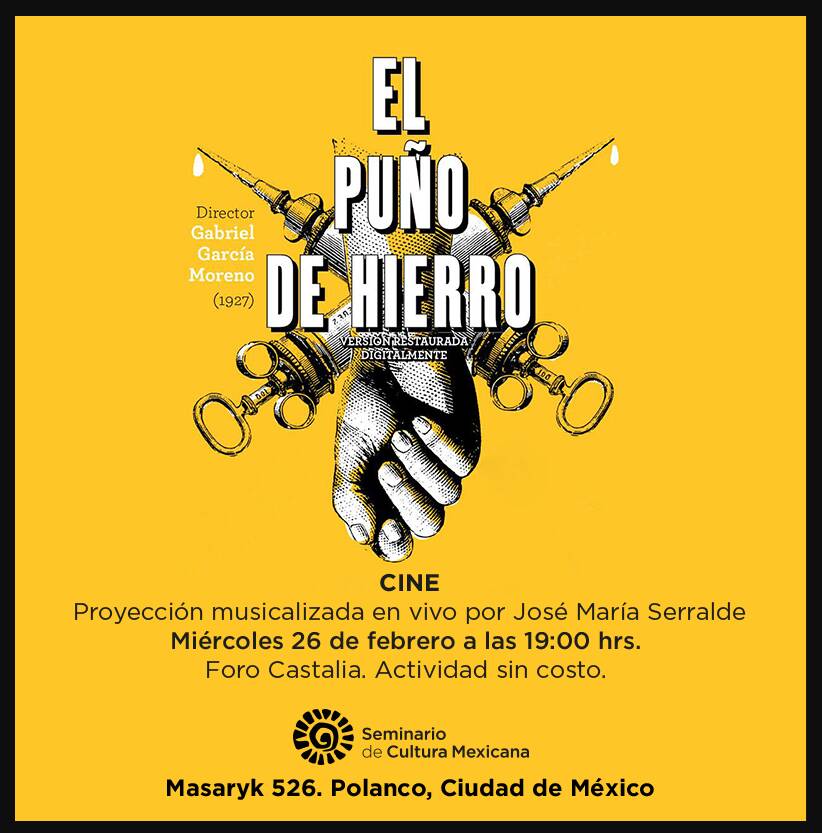 Actually, I hadn't realized that this was a premiere. Usually, Ensamble Cine Mudo works are based upon improvisational scores for piano solo I did premier during the early 2000. On the contrary, this were only my musical ideas strongly developed by the trio into different ones. So I had to work on a real piano reduction this time. Fascinating.
As I answered to Juan Arturo Brennan's question during a TV interview by the time of that premiere, El puño de hierro improvised score does not honor any strictly stylistic quest. On the contrary, as the film has always seemed truly scandalous to me, to its time, and even for demure eyes of the present, I find chases, intertitles and so on sounding pretty stridentistic before stridentism.
And so I proposed allusions to rhythmic patterns in works by Revueltas, to episodic formal developments and only in small doses, to the radio music of the roaring twenties.
See you at Seminario de Cultura Mexicana Castalia Hall, Mazaryk, Polanco this Wednesday 19:00, for a nice dose of past and a dose of drugs and mexican culture stories.
UPDATE: Víctor Gaspar and Noticias 22 team were there. They filmed a nice clip (Spanish):